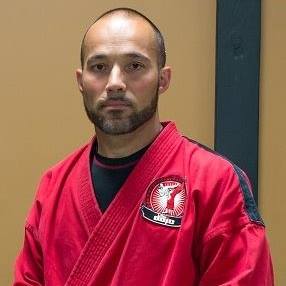 Shihan Manny Esmeraldo
Shihan Manny is the chief instructor/owner of The Dojo Martial Arts Center in Stamford, CT. A 5th degree black belt in Kempo Karate, Shihan Manny has been instructing martial arts in Stamford since 1994. He teaches martial arts to kids ages four and up, and works with adults of all ages. Shihan Manny has trained under a number of different world class instructors and brought all of this knowledge back to his school. Shihan Manny started his martial arts training in the late 80s and has never stopped being a student.
Shihan Manny received his Black Belt in Kempo Karate from 10th Degree Grand Master Steve DeMasco. Shihan Manny has also studied under Kung-Fu instructors of different styles including Chan Pui at the Wah Lum Temple in Florida, Tak Wah Eng from New York and Shi Yan Ming at the USA Shaolin Temple Training Center in New York City.
For the past ten years, Shihan Manny has trained in martial arts under the tutelage of Kyoshi Dave Kovar and is a graduate of ProMac (Professional Martial Arts College). Shihan Manny tested for his 5th-degree black belt under Kyoshi Dave Kovar. Shihan Manny holds a Black belt in Brazilian Jiu-Jitsu under Professor Fabio Araujo (Carlson Gracie Ct) from New Haven, CT, a black belt in Doce Pares (Filipino Martial Arts) under Grandmaster Arnulfo "Dong" Cuesta @ P.I.M.A. in Jersey City, NJ. Shihan Manny is currently an Apprentice – Level 2 instructor in Sayoc Kali under Guru Nick Sacoulas Progressive Martial Arts in Queens NY.