Challenge Your Child Today With Our Exciting Kids Martial Arts Classes
Does your child struggle to focus on one thing at a time? In today's world, there are simply too many distractions for young children to get caught up in. But we can help.
Our Kids Martial Arts Classes at The Dojo are designed to help students enjoy the learning process and take pride in their accomplishments. In our exciting classes, we make learning fun, and for that reason, our students see incredible improvements in their focus and attention to detail.
And did we mention that Kids Martial Arts classes also develop important character traits like confidence, respect, and discipline? You'll notice the benefits from day one!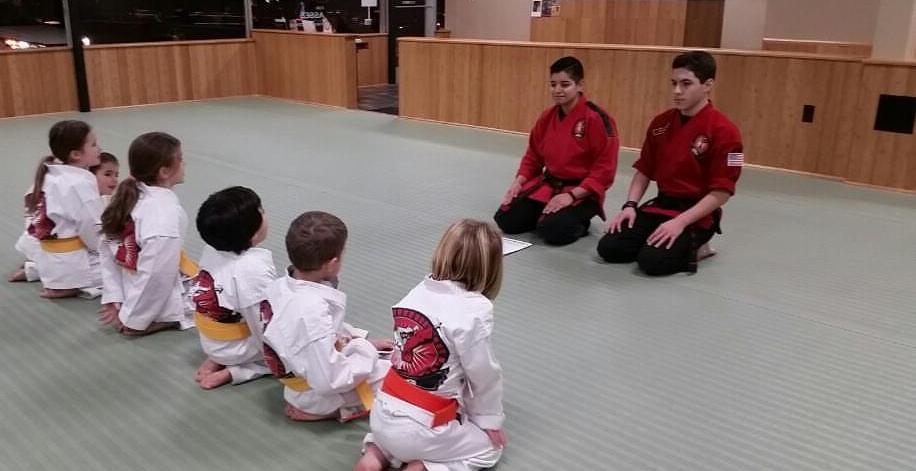 Our Kids Martial Arts Training Is Perfect For ALL Students
At The Dojo, there are no requirements or prerequisites. We proud to teach students of all ages and backgrounds. The beauty of our Kids Martial Arts training is that our instructors work hard to develop an individualized approach for each child.
You'll never have to worry about your child falling behind. Every technique we teach is completely scalable to help students of all abilities and experience levels get the most out of our classes.
Your child will learn how to:
Punch and kick with power
Block an opponent with speed
And progress through our system with confidence

PLUS The Benefits Of Kids Martial Arts Training Goes Well Beyond The Dojo
Sure, we help your child build strength and speed and coordination. But that's just a small part of what our Kids Martial Arts classes are about.
We also focus on the core character traits that each child needs to be successful in life and we work hard to teach those each and every class. Your child will enjoy the support of a great new group of friends and the high-quality instruction from our talented staff.
They'll quickly gain:
Confidence and self-esteem
Respect for all people
Leadership and teamwork skills
And an unbelievable sense of accomplishment
Give Your Child The Gift Of Kids Martial Arts Today
Give your child a boost of confidence today and help them grow important physical, mental, and social skills with our amazing Kids Martial Arts classes.
To learn more about our membership options at The Dojo, all you have to do is fill out the short form on your screen today! We'll be happy to answer all of your questions and get your child started right away!
Our kids martial arts Classes Are Located In